BETA hosted Australia's first ever Form-a-Palooza on 28 June 2019. It was a one-day festival of forms, designed to share the latest in form design with public servants from across the Australian Government.
Forms are the most common interaction between people and the government, and there are thousands of them—most still in paper. Improving forms is a simple but important way to improve service delivery and increase public satisfaction with government.
Over 200 participants from 38 agencies came along to Form-a-Palooza to learn new techniques and put them into practice.  
We also launched a brand new framework to guide the development of good forms—the WISER framework. It's based on the latest research, as well as our own experience working with government agencies on forms, letters and communication.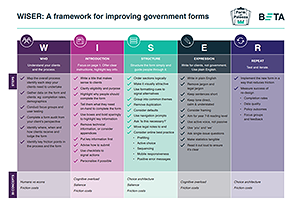 Download WISER Framework (PDF 138KB)