Mission
BETA's mission is to advance the wellbeing of Australians through the application and rigorous evaluation of behavioural insights to public policy and administration.
Objectives
BETA fulfils its mission by pursuing four broad objectives:
Build APS capability to apply behavioural insights to public policy and administration.
Provide advice to government on applications of behavioural insights.
Work collaboratively with partner agencies to design and deliver behavioural insights intervention.
Conduct rigorous trials and thereby contribute to a culture of evidence based policy advice.
Projects
BETA is committed to being open and transparent about the work that we do. We are working across government on a range of projects to trial the use of behavioural economics.
We pride ourselves on our commitment to rigorous, evidence-based policy and testing what works. 
We also aim to disclose our trials ahead of time. Once a trial is complete, we aim to make our findings public. Trials will be marked as 'Complete' once the results become available, via downloadable reports.
These practices are about greater accountability and transparency. They also help to share knowledge with our fellow researchers and other interested parties.
Why we need a Behavioural Economics team
There is often a disconnect between how governments design policies and how people actually behave.
Sometimes traditional policy can assume people have no shortage of brain power or will power—when in reality, many of us find it hard to eat healthy, save for retirement or shop around for the best internet or phone deals.
There is often a gap between what people intend to do, and what they end up doing. For example, we know when people are in 'auto-pilot' they will often use shortcuts and prefer to rely on stereotypes. In other cases people won't act on their best intentions because they feel overloaded with choices.
The latest research shows small improvements or 'nudges' can help people put their good intentions into action.
Rather than expecting people to redesign their lives around government, our work encourages people-centred design, which means simpler, clearer and faster public services.
Initiatives like plain packaging of cigarettes, mysuper and pre-filled tax forms were designed with real human behaviour in mind.
In NSW, the Department of Premier and Cabinet used behavioural insights to help get injured workers back to health and work more quickly by simplifying processes, using positive messaging and personal commitment techniques.
In the UK, the Behavioural Insights team helped people realise their intention to register as an organ donor.
Impact Report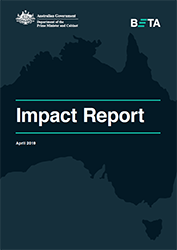 To find out more about our achievements read our Impact Report.