Want to stay up to date with BETA?
BETA's newsletter regularly brings you the latest in the BI world direct to your inbox. Thought-provoking interviews, the latest research, as well as news on what we're up to. Subscribe now.
---
Academic directory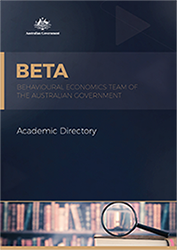 BETA's Academic Directory can help you find Australian academic experts in behavioural economics and behavioural science. You can search by policy topic or by academic. We are committed to fostering links between the Australian Public Service and the behavioural economics research community. With the growing interest and demand for behavioural science, there are many opportunities to better connect the public service with academia.
If you would like to be added to the Directory, or if your details within the Directory require updating, please contact us.
Who we follow
There are hundreds of other useful resources from around the world. Here's a collection of some of the blogs we like to follow, including newsletter updates you can sign up to.